5-Axis Machining Centre For Everyone
---
What Do You Want to Create Today?
Our best-selling 5-axis Machining Centre is an effective means to reduce setups. This increases accuracy for multi-sided and complex parts. The Haas UMC Series machines are cost-effective solutions for 3+2 machining together with simultaneous 5-axis machining.
The UMC-750 has an integrated high-speed, dual-axis trunnion table. In addition its 500 mm platter features standard T-slots. Not to mention a precision pilot bore adds versatility for vices.
5-axis simultaneous machining
Powerful inline direct-drive spindle
High-speed trunnion table
Includes Wireless Probing System
---
Super-Speed 5-Axis Universal Machining Centre; 762 x 508 x 508 mm, with 500 mm integrated high-speed 2-axis trunnion rotary table, 40 taper, 30 hp vector drive, 12,000 rpm, direct-drive, high-speed 30+1 side mount tool changer, 30.5 m/min rapids, high-speed machining, spindle orientation, macros, coordinate rotation & scaling, Wireless Intuitive Probing System, second home button, colour remote jog handle, power-failure detection module, 1 GB expanded memory, 15″ colour LCD monitor, USB port, memory lock keyswitch, rigid tapping and 284 litre flood coolant system.
Haas UMC-750 • 5-Axis Universal Machining Centre
---
See the full set of features on the redesigned UMC-750 and UMC-750SS. The list includes a new operator door and an available HSK spindle. We also address issues like user-friendliness, together with increased performance. Additionally, we discuss better chip evacuation, as well as rotary crashworthiness, and much more.
5-Axis Made Easy – Parts 1, 2 and 3
---
Senior applications engineer John Nelson explains why 5-axis machining is much simpler than it has ever been before. Furthermore why any shop can be a 3+2 or 5-axis shop.
John explains how to make the correct choice when choosing your machine and rotary combination.
He talks about setting up your rotary table or trunnion. As well as explaining how the Dynamic Work Offsets and Tool Centre Point Control makes multi-axis work more straightforward.
8-Station Pallet Pool for UMC-750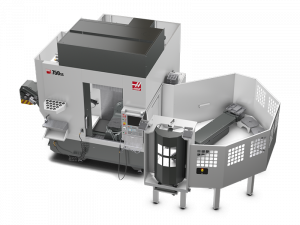 Pallet Pool for 5-Axis Machining Centres:
Our 8-station pallet pool for the UMC-750 series is perfect for high-volume production runs. In addition, the pallets can be scheduled individually according to priority and sequencing requirements. In other words, allowing high-priority parts to be machined first or staged more often. Another key point, is completed pallets automatically return to the holding location. Alternatively, they can be sequenced to a protected operator station. In other words allowing immediate unloading and re-loading.</span>