5-Axis Machining Centres For Everyone
---
What Do You Want to Create Today?
5-axis machining is an effective means to reduce setups and increase accuracy for multi-sided parts. The shorter travels and compact footprint of the UMC-500 make it perfect for 5-axis machining of smaller parts.
5-axis simultaneous machining
Powerful inline direct-drive spindle
High-speed trunnion table
Large capacity side-mount tool changer
Includes Wireless Intuitive Probing System
Made in the USA
---
5-Axis Universal Machining Centre; 610 x 406 x 406 mm, with 400 mm Integrated 2-Axis Trunnion Rotary Table, 40 taper, 30 hp Vector Drive, 8,100 rpm (15k opt.) Direct-Drive, 30+1 Side Mount Tool Changer (50+1 opt.) (Servo-Driven High Speed), 22.9 m/min Rapids, Spindle Orientation, Macros, Coordinate Rotation & Scaling, Wireless Intuitive Probing System (WIPS), High-Speed Machining, Programmable Coolant Nozzle, Chip Conveyor, Dynamic Work Offsets (DWO), Tool Centre Point Control (TCPC), Second Home Button, Colour Remote Jog Handle, Power-Failure Detection Module, 1 GB Memory, 15″ Colour LCD Monitor, USB Port, Memory Lock Keyswitch, Rigid Tapping and 208 litre Flood Coolant System.
UMC-500 • 5-Axis Universal Machining Centre
---
UMC-500 • 5-Axis Universal Machining Centre
The UMC-500 has the capability of the UMC-750 together with the design improvements of the UMC-1000. Furthermore, it sits on a footprint just slightly larger than a VF-2.
5-Axis Made Easy – Parts 1, 2 and 3
---
1: Senior applications engineer John Nelson explains why 5-axis machining is much simpler than it has ever been before, furthermore why any shop can be a 3+2 or 5-axis shop.
2: John explains how to make the correct choice when choosing your machine and rotary combination.
3: He talks about setting up your rotary table or trunnion, as well as explaining how the Dynamic Work Offsets and Tool Centre Point Control makes multi-axis work more straightforward than ever.
16-Station Pallet Pool for UMC-500 5-Axis Universal Machining Centre
High-volume production, unattended operation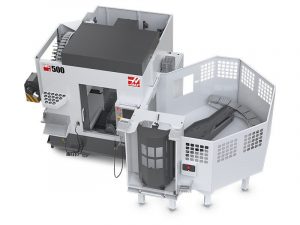 The 16-station pallet pool for the UMC-500 and UMC-500SS are perfect for high-volume production runs. In addition, the pallets can be scheduled individually according to priority and sequencing requirements. In other words allowing high-priority parts to be machined first or staged more often. Another key point is that completed pallets automatically return to the holding location or can be sequenced to a protected operator station. In other words allowing immediate unloading and re-loading.
NOTE: The Pallet Pool must be anchored for proper operation.
Fully integrated solution for lights-out production
16+1 pallets
Includes 50+1 side-mount tool changer
Includes CNC control cabinet cooler
200 lb max payload per pallet
8″ dia. x 16.5″ tall work envelope
Easy-to-use scheduling interface
Dedicated load/unload station
Must be ordered with the machine
UMC Auto Parts Loader for 5-Axis Universal Machining Centre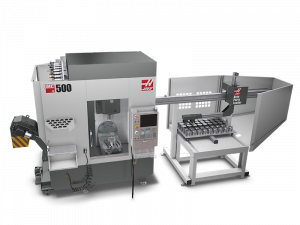 Automate Your Part Production on Small UMCs
The Haas Automatic Parts Loader is a simple and affordable way to automate part production. What's more it's designed and built exclusively for the Haas UMC-500 series. By the same token, for simplicity, it connects directly to the Haas control.
All-inclusive design, with plug-and-play capabilities
Interfaces directly with the Haas control
Accommodates parts up to 6″ length x 6″ width x 10 lb
Includes light curtain for safe operation
Made in the USA
UMC-500SS and Pallet Pool In Action
---
The compact footprint of the UMC-500 makes it ideal for smaller 5-axis workshops. Furthermore the UMC-500SS has a faster spindle coupled with a high-speed tool changer. Additionally, a high-speed trunnion reduces cycle times and boosts efficiency. The addition of our 16-Station Pallet Pool takes your production to the next level. At last running "lights out" has become a reality.